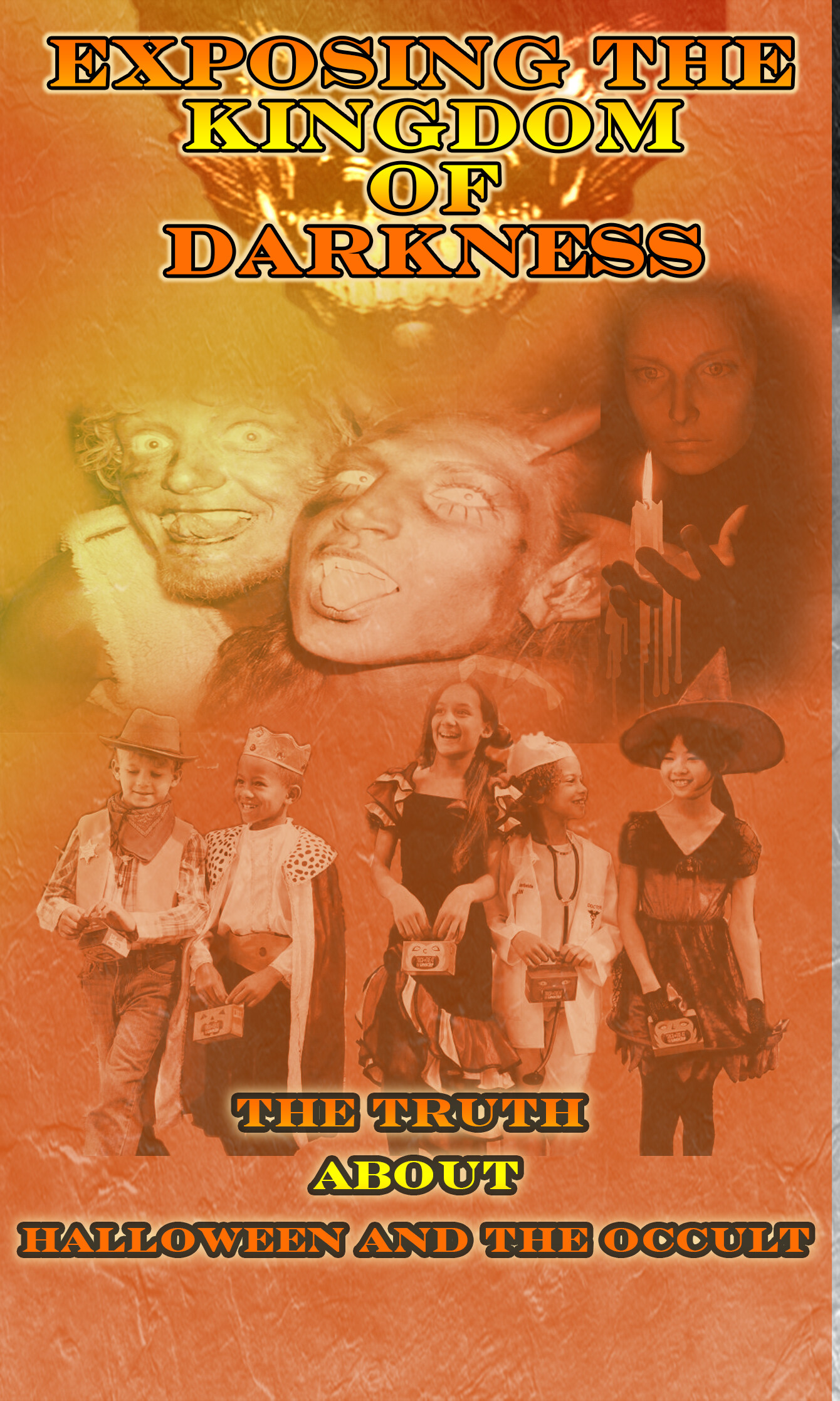 Exposing The Kingdom Of Darkness
After several years of publishing this book and try-
ing to present it in every appreciable angle, it is the conclusion of this writer that it all comes down to this!
Who we are, what we do and who we do it with is controlled solely by our character.
Nothing exists outside of it, for it is the outward display of our inward expression. Webster defines it as the pecu- liar qualities, impressed by nature or habit on a person, which distinguishes him from others; from the Christian viewpoint, this means that whatever is developed the most in us, controls what we associate ourselves with on the outside.
This brings to mind one of the questions we asked early on in this publication.
Would Jesus the Christ involve Himself with Halloween, even if it were a harmless holiday (and it's not ) would our Lord and Saviour take time away from Glorifying God to go door to door begging candy and other assorted treats in observance of a day that is embraced by the occult worldwide?
I think not, as a matter of fact, I know he wouldn't. How do I know this you might ask?
Simple, there is no mention of it in His Word, and His Word is our guide and operation manual. Need proof
read this: " 2Tim 3:16 All scripture is given by inspiration of God, and is profitable for doctrine, for reproof, for correction, for instruction in righteousness: " in other words, the Scripture
of God is provided to teach us how to live right.
So then if we never see Christ participating in His recorded examples and He left no mention of our compliance to this day in His word and if, in fact, we fulfill the Word written in 1John 4:17 Herein is our love made perfect,
that we may have boldness in the day of judgment: because as he is, so are we in this world.
Then this issue should really be settled in our hearts, and without a doubt it probably is, but there is another player in the game, another part of us that must be satisfied, the show me, I'll only believe when I see it with my own eyes.
The reason we continue to publish this book is to address this part of the trinity of man, that the Word of God can be fully recognized in every fiber of our being
and that in doing so we might convert it from spirit to flesh and that according to 1Thess 5:23 "And the very God of peace sanctify you wholly, and I pray God your whole spirit and soul and body be preserved blameless unto the coming of our Lord Jesus Christ."
With that established let's begin our journey of enlightenment and enrichment in the Word and Rhema of God.
1. First of all, God does not want us in fellowship with the world for any reason, Gods Word puts it this way:
(Eph 5:11 GWT) Have nothing to do with the useless works that darkness produces. Instead, expose them for what they are.
(Eph 5:12 GWT) It is shameful to talk about what some people do in secret.
(Eph 5:13 GWT) Light exposes the true character of every thing.
(Eph 5:14 GWT) because light makes everything easy to see. That's why it says: "Wake up, sleeper! Rise from the dead, and Christ will shine on you."
(Eph 5:15 GWT) So then, be very careful how you live. Don't live like foolish people but likewise people.
(Eph 4:17 GWT) So I tell you and encourage you in the Lord's name not to live any longer like other people in the world. Their minds are set on worthless things.
2. In fact, 1 Peter 2:11-12 tells us to consider ourselves strangers in this world:
(1 Pet 2:11 GWT) Dear friends, since you are foreigners and temporary residents ( in the world ), I'm encouraging you to keep away from the desires of your corrupt nature. These desires constantly attack you.
The Truth About Halloween And The Occult